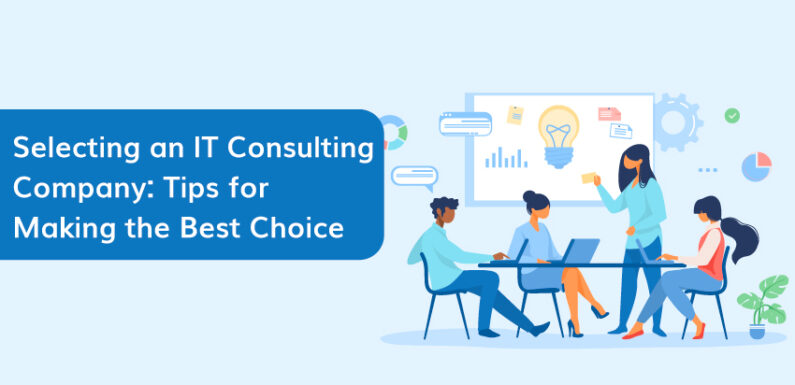 The need for digital transformation is growing day by day, and businesses are looking for IT consulting firms in the USA to help solve the technology challenges. However, not all of them offer good advice, and IT consulting with one that does not, can indeed be a nightmare for your business. If the IT consultant proposes the wrong solution, your business may lose productivity and suffer serious losses.
To help narrow down the options, here are some important tips to help you choose a competent IT consulting service provider.
 1. Good Experience
An inexperienced IT consulting company typically implies a lack of expertise in advising and giving suitable solutions for clients, particularly for complicated projects. You must enquire about the experience of the service provider before hiring their services. One of the best indicators of their competence will be their certification in the solutions they provide.
2. Positive Reviews By Previous Clients
You can easily find reviews about the IT consulting service provider. Generally, the customers who are satisfied with the services are eager to give their feedback to the company.
3. Communication Approach
Communication may not be a top concern, but you should not overlook their communication approach if the work comprises advising and sharing of information regularly. You should choose a provider who actively sets up phone conversations and also follows ups regularly to find out your potential business obstacles. If considering a firm based in a country that speaks any other language than your own, you should discuss whether your teams will be able to communicate properly.
4. Company Size
Since the firm will become your IT development project implementation partner, it would be wise to consider its size. Large IT consulting companies usually have an edge in terms of reputation, but small IT consulting firms may have an edge in terms of dynamics. Depending on your business needs, you can consider both large and small IT consulting firms. However, you should always take your final decision on the firm's credentials, and certifications as well as reviews.
5. Futuristic Approach
The IT consultant should have a futuristic approach as continuous innovation in Information and Technology can empower many organizations in their process improvement and embrace solutions that can be relevant in the days to come. Such a team will be able to help you in implementing and seamlessly integrating new technologies like Block Chain & AI, Business Intelligence & Data Analytics, Enterprise Application, RPA, Mobility, Cloud computing, and more with your system.
6. Creative Problem-Solving Skills
To ensure that the IT consulting services company you choose helps you in solving all of your business problems, you should look for a service provider who has creative problem-solving skills. The consultants who are imaginative and effective learners will be able to solve any issue for your company.
7. Data Security Expertise
Data is a priceless resource in today's business world. Bad encryption, information leaks, and the lack of binary safeguards can be a huge concern. You should check the expertise of the IT consulting company in dealing with the complexities of protecting sensitive data. This is arguably an essential IT consulting skill set which is crucial for success.
With the right IT consulting company on your side, your business will experience great success through managed IT support and other vital services. 10bits is one of the best IT consulting companies in the USA. 10Bits' team of experienced consultants utilizes their deep domain knowledge to deliver a complete range of IT consulting services for small as well as big enterprises. They can seek detailed information about your business processes and offer customized solutions according to your needs. They will help you incorporate new technology and seamlessly integrate it with your system. For more information, visit https://10bits.com/it-consulting-services-company-in-usa/